As each language is unique, every interpreter behind that language, equally, has a unique story to share. Welcome to The Many Faces of Languages - a forum of thoughtful sharing and discovery.
We are pleased to offer this story selected for July 2021.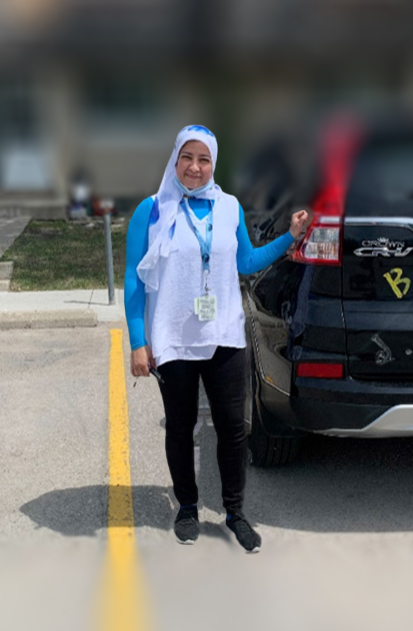 Rawia H., an Arabic interpreter with CanTalk, tells us about the arrival of her family at the airport in Toronto. Tired and hungry, they were not able to buy a cup of the most delicious smelling coffee because the server was talking so fast. They needed to get their luggage and catch the plane that would take them to Winnipeg. The airport was large. They tried to ask directions. Time was passing. Then a woman who spoke their language appeared.
My name is Rawia H. and I am an Arabic Interpreter. I would like to tell you about my story and how I ended up in Canada.
I still remember taking the plane to Canada with my family as immigrants. I left the place I grew up, the place where my childhood memories are. My husband was next to me and he was anxious, trying to hide these fears to give us confidence and strength. When my fear and confusion increased, I remember the bright future that awaits our children in Canada. And our university education allows us to learn anything quickly and adapt to any modern social system. We arrived at the Toronto airport and we were going to sit for about an hour. Then we would continue our trip to Winnipeg. We were hungry and tired and went to look for a restaurant. There was a restaurant that emitted a wonderful smell of coffee. We could not resist the smell and went immediately to the restaurant. I tried to communicate with the employee but he was talking so fast, my husband and I could not understand him. By the time the seller knew what we wanted, it was time to complete our trip to Winnipeg. We were supposed to go bring our luggage and then go to the place to board the plane. Toronto airport is big, and the time was passing by trying to ask around. Unfortunately, we couldn't understand and communication was difficult. Then a lady approached us and in our native language, she said, "How may I help you?" Wow, we finally met someone who communicated with us easily. We explained the problem to her and she quickly showed us the place and I thanked her a lot because she saved me and my family from a big problem that we would have had to face. The lady said she worked as an interpreter and she gave us the contact number of the interpreter company that she is working with. She was so proud about what she does. That time I felt that it is awesome to help people to overcome many difficult situations, whether these situations are legal, commercial, or humanitarian in general. At that time, I got a strong passion to work in this career. I wanted to be an interpreter. As a result, I really learned and worked hard to be a member of this wonderful field. Whenever I remember this story, I feel proud and happy about being an interpreter and helping other people in my community.
Since that day, I decided to help my community in interpretation, because I went through different situations, and I know how it feels if you do not understand what people are telling you.
I ended up working in different organizations as an Arabic Interpreter, helping my community and I love to help lots of families who are struggling in language.