CanTalk understands language, culture and dialects. It's our business. Backed by 25 years of cultural and language service delivery experience in many formats and venues, CanTalk is both a language service and technology provider. The company is located within the historic Exchange District in Winnipeg, MB, an ethnically diverse city. All of CanTalk's administrative offices and its technical centre are located here on a single site. CanTalk was the first Canadian company to provide IMMEDIATE over the phone and contact centre language and cultural support (services) for the business community.
The service was founded by Maureen Mitchells, a woman who saw the positive and lasting impact of language and cultural barriers when they are acknowledged and accommodated. Working in the international grain industry, she experienced first-hand the deep relationships that form when English is not imposed on potential customers. Today, that truism remains steadfast in every facet of business, people live and think in their native language ... if you want to communicate, and have people truly relate to your products and services, speak their language.
CanTalk provides a highly focused quality driven ON DEMAND language solution service 24/7/365 in 200+ languages and dialects, including Canadian Indigenous.
Language services and applications are characterized by customization, high performance ramp-up, as well as agile and flexible service support.
Large corporate clients, government agencies, contact centres, emergency based language service delivery providers, new business initiatives, not for profits, global directed clients, all can have immediate and rapid language services and technical support tailored to their unique needs.
The benefit of customized solutions and programs tailored specifically to their requirements.
The assurance of quality language delivery with technology security and support 24 hours a day from one location.
The capability to seamless integrate to your particular operating platform.
The trust that data stays within one infrastructure and one vendor.
The system strength of services and technology being delivered and controlled within one operating system.
The cost savings at reasonable rates and a wide selection of languages, services and supports.
CanTalk saves time & money
Most businesses do not have the time to search for a qualified translator or interpreter.
As a CanTalk member you can also pre-book an interpreter to assist in an upcoming meeting or conference call.
Bringing a CanTalk interpreter into your businesses call reduces costs! You can expect to spend a fraction of the cost of a business trip, while sitting in your office and have language service at your fingertips.
You pay only for the time you use.
We are your direct HUMAN CONNECTION. At CanTalk it's real people who do your interpretations and translations. Very quickly, we can become a seamless, and highly effective language extension to your existing operations.
CanTalk offers a fully integrated language service centre:
Where you need it
When it's needed
How it's needed
CanTalk specializes in IMMEDIATE language and cultural services 24/7/365 by phone, on-site, email and the internet.
Our business premise is that language is a VALUE ADD that significantly helps businesses, government and not for profits communicate with new customers and existing clients. When communities can understand and better your services and products, this can increase your revenue base. In effect, your ability to talk and to be clearly understood – SPEAKS DIRECTLY TO YOUR BOTTOM LINE.
CanTalk is all about agile customization, immediate and rapid response, quality one-of-a-kind service delivery applications, and personalization of each account with end-to-end attention.
Privacy, confidentiality and data protection are paramount.
We began the FIRST LANGUAGE COMPANY of its kind in Canada in 1995. Our language service centre is located all under one roof in downtown Winnipeg, MB.
CanTalk Canada occupies a 10,000 square foot space that holds all its assets, management and technical resources, language delivery platform, its interpreter network, advanced technology, telecommunications and security infrastructure under one roof.
Today our convenient and affordable language services and products can be EASILY ACCESSED in the North American and global market place.

Where human connections are extended
Confidential information stays in one location – OURS – PROTECTED & SECURED.
We provide a high quality, detailed, customized service backed by our PROFESSIONAL INTERPRETERS AND TRANSLATORS.
We provide CANADIAN OR U.S. BASED interpreters and translators to meet your business requirements. You make the choice.
CanTalks services can be ACCESSED GLOBALLY through local and international toll free numbers.
What's important to you is important to CanTalk
Leveraging combined decades of experience, CanTalk's operations team can professionally and rapidly bring your company on-board with a personalized language solution designed to specifically for your situation.
CanTalk's production systems were designed and built in-house specifically to support growing economies of scale, able to ramp up or down based on customer need.
CanTalk systems are built to accommodate sudden surges in volumes and languages. Through leveraging unified telecom platforms, local DID and toll-free numbers can be quickly assigned to meet your requirements.
Forecasting & Scheduling System
CanTalk's unique capability to accurately pinpoint language support provides instant availability of languages - fulfilling each customer's need to bridge the language gap.
CanTalk provides built in interpreter redundancy coverage. Our interpreter network of employees and contractors is located both onsite for commonly requested languages (in a contact centre environment), and offsite across Canada and in the US. In the event of an offsite interpreter access problem, redundant carrier support allows for quickly switching service carriers allow for outbound calling.
CanTalk's interpreters and translators are located in geographic locations across five time zones across the continent. This means CanTalk has the ability to provide you with interpreters, in the languages you need – no matter the time of your peak demands.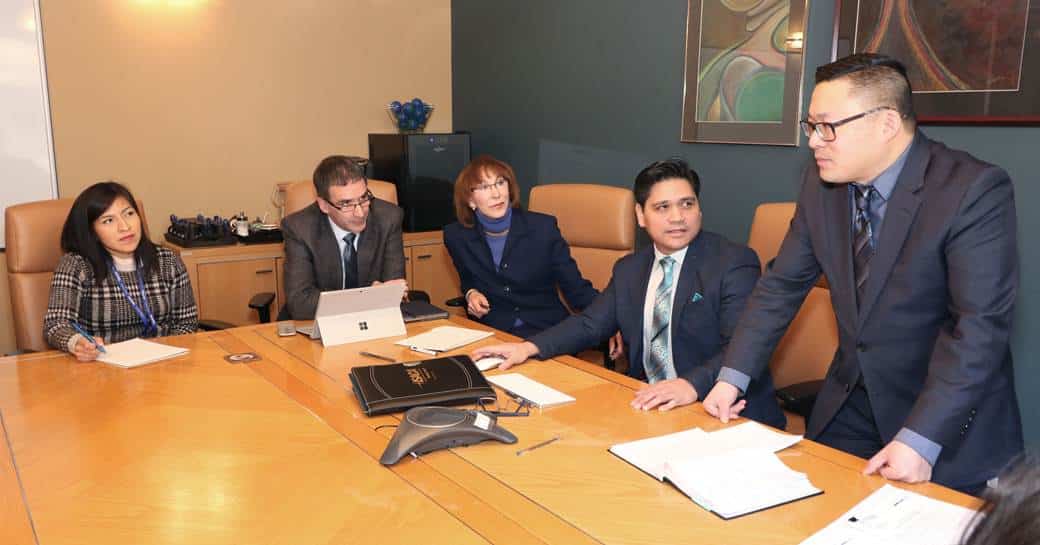 CanTalk team members in discussion at home site in Winnipeg, Manitoba
At all levels - we work hand-in-hand with you, providing you with technical, operational and marketing solutions.
Our processes and protocols are designed to match your internal system, to ensure your customers experience best quality, and unparalleled language support.
We provide value add client information, customized reports, as well as billable call detail tracking and summaries.