As each language is unique, every interpreter behind that language, equally, has a unique story to share. Welcome to The Many Faces of Languages - a forum of thoughtful sharing and discovery.
We are pleased to offer this story selected for July 2022.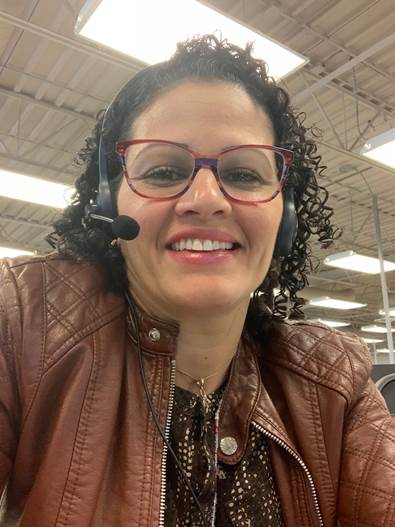 Claudia's whirlwind journey from her personal life to her professional experiences encapsulates the beauty and the challenges to achieving a fulfilling future for her family and to those that she helps along the way.
Hello,
My name is Claudia M. and I come from the Dominican Republic in the Caribbean, where it is very hot all year long. My mother language is Spanish and I finished my English studies when I was 16 years old. I loved English so much that when I became a young adult, I wanted to make sure I hadn't forgotten it.  I took some advanced English classes and got a second diploma. It was my dream since I was very little to live in a place where only English was spoken. I am not sure why I love English so much but I find it a lovely language! This is the only one I've wanted to learn aside from my native language.
And here I am, three years living in Canada with my husband and three kids (two of them are teenagers). It's been challenging for us to adapt, especially in the winter.
With 14 years of experience from my country in Supply Chain and a Marketing Master Degree, I completed a two-year academic program in Logistics and Supply Chain Management in Canada as the entry door to this country. Already being a busy mom, and combining this role with intensive studies was very demanding and almost made me crazy for the first two years. I couldn't wait to finish this program and be able to enjoy my new life in Winnipeg, Manitoba, which I did last summer! We went together as a family to lots of small towns surrounding Winnipeg, lakes, beaches, parks, etc. The summer here is absolutely delightful!
As an interpreter, I had previous experience from my country translating a variety of written documents in different types of environments. From legal contracts and letters, to technical manual of instructions of heavy machinery, as well as documents in the electrical manufacturing field. I was in charge of providing training to other employees and translating the training, presentations and manuals to have it comprehensible in both languages.
I am passionate about connecting people.  Helping them to understand each other; deciphering emotions and feelings, and then translating them into words; and supporting and helping people until they completely understand the message. It is like building a bridge to let the traffic go and making sure their journey is safe. Interpretation is a matter of professionalism and accuracy, and that is my delivery goal on each call.
Improving my English level on each call is something that really helps me to integrate myself and my family into this country. Each call is a beautiful opportunity to engage with people and learn about their culture and lifestyle. I believe each call is unique.
It is a pleasure to work for CanTalk and being a mean of efficient communication for people.